[ad-8125684]
Good 5-Paragraph Narrative Essay Structure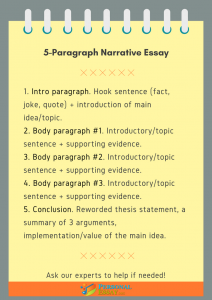 The five-paragraph narrative essay is a structure of narrative essay for telling a story that has five paragraphs. There are other formats but the five-paragraph format is useful for developing writing skills. The 5 paragraph narrative essay consists of:
Introductory paragraph – contains the thesis statement and tells what the essay is about.
Body paragraphs with support and development.
Second paragraph – first supporting point
Third paragraph – second supporting point
Fourth paragraph – third supporting point
Concluding paragraph

– restates thesis and summarizes.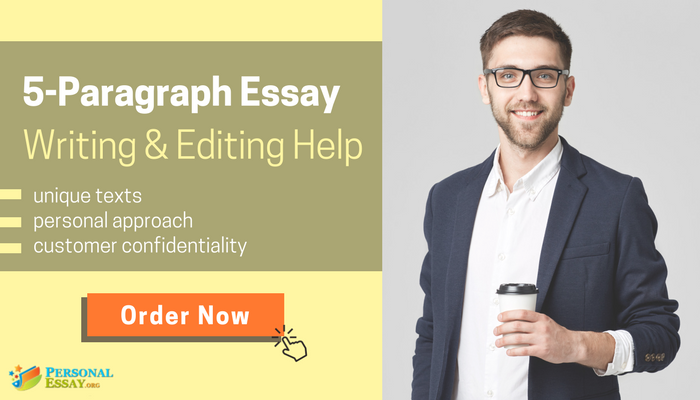 The following are some helpful tips for writing the 5 paragraph narrative essay:
Set the tone in the opening paragraph
Write in the active voice
Vary sentence structure
Make sure to support the thesis in the body paragraphs
When writing the conclusion, summarize your argument with some degree of authority. Be powerful as this is the last thought that you are leaving with the reader.
Download a sample below by clicking on it!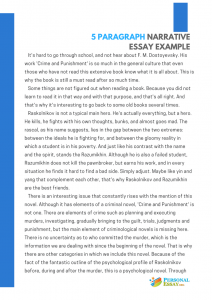 Here is a five paragraph narrative essay example:
"Learning something new can be a scary experience. One of the hardest things I have done was learn how to ride a horse. I was always afraid of horses that my friends rode and often invited me to go with them. What I didn't realize was that learning to ride would also make me a more confident person.
My first riding lesson I stood timidly by the barn waiting for the instructor and other beginning students to show up. After a couple of minutes, the teacher came over. She smiled and introduced herself, and two more students joined us. Although they were both older than me, they didn't seem to be embarrassed about not knowing how to ride. I began to feel more at ease.
The instructor brought the horses out and assured us they were gentle. She then introduced us to our mounts and explained how we should act around them. Eventually, we mounted for the first time. Although my horse seemed as big as a mountain he waited patiently as I got on. We spent the rest of the time that day learning the basic commands for guiding the horse.
I remained apprehensive for a number of weeks but the instructor was patient. Over the weeks, as I caught on we went from a walk to a trot and eventually full gallop. Before I knew it I was attempting small jumps and weaving in and out of obstacles at a run. It was a wonderful feeling soaring over obstacles on such a large and powerful animal.
Not only did I learn how to ride and to conquer my fear of horses, but I also learned something about learning. Now when I am faced with a new situation I am not so nervous. I know that as I practice being in that situation and as my skills get better, I will feel more comfortable. It is a great feeling when you achieve a goal you have set."
We Can Help with Your Five Paragraph Narrative Essay
Our service can help you with any type of personal narrative essay. The writers we use are experienced professionals with first-rate writing skills. The can craft a completely original essay for you based on your specific requirements. Benefits of our service include:
Guarantees on every essay we provide
Affordable rates that will suit a student's budget
Easy online order and payment process
Customer support 24/7
Contact us for an original 5 paragraph narrative essay written to your specific requirements!