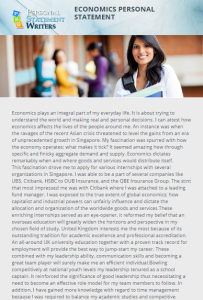 The admission statement is one of the important components of your application, especially if it's about personal statement high school seniors. It is your first impression in telling who you are. It is better when you do well in crafting it for the admission committee to think that you are the person they are seeking for. To avoid rushing, getting started ahead of time is required to craft a wonderful admission statement.
Economics Admission Essay Structure
Pay attention to the university admission essay structure to increase your chances to succeed.
First section: This section is the introductory paragraph which tells your unique story. You need to tell why you have interest in Economics and in your second sentence, tell why you want to study in that university. Make sure to be more personal and specific so that it will be catchy.
For that, we recommend using one of the following opening sentences for increased effectiveness:
As an enthusiast of economics and fanatic of everything related to this field of work, there's no other goal I want to achieve as hard as I want this economics degree.

My first goal as a professional is to become an economics expert, and for that, I need to get into a great program – such as this one.
Then you can go on to explain your interest in a subtle way.
Second section: In this part, you need to present evidence. You need to show why you are interested in economics and why did you choose it. You need to show your interest in economics. If you really want to become an economist, tell. It is also essential when you use economic terminology in your statement.
You can start this paragraph with something like:
I've always wanted to become a great economist due to

(name of the prominent person in the field)

and his ideas about

(topic name of his thoughts)

and how it can change the world or economics as we know them.

Learning about inflation, taxes, the importance of minimum wage, fiscal expenses, and so on – allows me to say how important it can be for me in the future, and how important I could become for my country.
Third section: It is about how your extra-curricular activities are related to economics. You present about your academic achievements, experience, extra economics courses, economics societies, and others important things.
This part can begin with anything that goes like this:
I've worked, despite being a recent undergraduate, in jobs that has required my skills as a future economics student to improve a lot.

Learning many different things about the economics subjects, having been part of the economic team of my school, and even receiving diplomas fro various financial courses, makes me the perfect candidate for this career, without a doubt.
After this, you can start explaining why they will help you throughout your college years and further professional career.
Fourth section: Tell how you are as a person and what you are up to. You need to convince the reader that you have the skills to study in their university and to work with them. This is the final paragraph that is why you need to be the focus in wrapping up your central body.
Start with something like this:
My primary goal is to become a valuable part of my community, then, I would do my best to get as far as I can and help those in need, maybe even improve my country's entire economy with my knowledge.

Studying and learning from the best is what I need to improve my knowledge, and that's something I can only get from here.
Then simply talk about what you actually plan to do while and after studying, with details.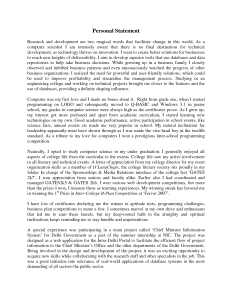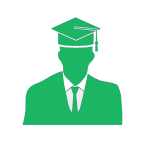 If you want to know more ideas in crafting the admission statement, you can research on economics statement examples online. You may also use statement writer for the admission to the course. Many of them are available and they give an idea of the bad and good statement. To sum it up, here is a structure presented above that you can follow to have a good structure and for your essay to flow smoothly.
Before submitting your engineering statement, you need to read it for several times. If you are done reading your paper and you think that it does not contain any mistakes, you can submit it.
If you are looking for tips on a postgraduate statement structure, a university admission essay structure or an essay format, then we have something useful for you.

And if you need a piece of advice on an economics statement structure, feel free to ask our experts!