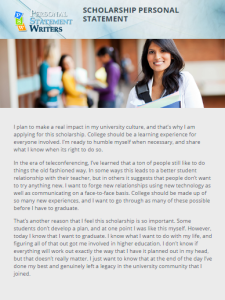 Almost all application for scholarship requires a scholarship application essay format. Although the statement format for scholarships varies in length of words and other requirements, there are some necessary requirements that should be followed, especially concerning some creative professions or while writing specific pharmacy personal statements or any other college application papers. Below are important guidelines to follow when  personal essay format for the scholarship is required.
Dos for Scholarship College Application Essay Format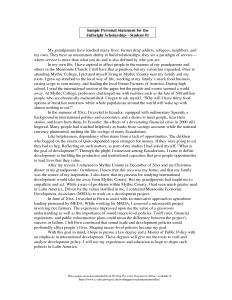 Consider the structure of a personal statement for scholarships an "intellectual biography" where you clearly expound on the details of your qualifications, skills, experience and other latent talents that may be of interest to the reader.
Have a single cohesive idea on what you want to write and justify it with relevant information for your reader to understand. Don't make your statement too long including too much information. Every word you are using in your application should be significant. It's the best practice to make a 4000 characters limit including spaces.
Keep your statements and words simple like writing a letter to your friend. The simpler it is the better it would be for the reader to get an idea of what you want to impart. Don't ever use words you don't understand their meaning.  The admission committee will get your ignorance easily.  So, recheck any difficult word which you are using into your essay.
Use unique specific words and phrases that will make the reader remember you. Incorporate this with relevant knowledge and you have an interesting topic for reading.
Write about a unique experience or event in your life where the reader can see your journey. To make your words really matter you need not just tell how good you are but show it in some situations.
Write your personal statement in a way that it invites your reader to get to see you like a friend and know you better as a person. You need to display your strong suit and that you are an interesting person. Studying is an important thing but it's not just all about that. You need to have something more than just good grades. So it's the best to tell about your hobbies and dreams.
Don'ts for Scholarship Application Essay Format
Do not write to impress your reader. A false bravado will always be detected.
Avoid writing in clichés because it can be written by anybody. Be unique find ways on how to write your statement for scholarship without sounding like everybody else.
Do not write in general terms be specific so your writing is not vague for the reader to understand where you are coming from.
Do not get discouraged easily. It takes patience and a couple of tries to write a scholarship statement format.
Do not take the statement for granted when you are applying for a scholarship. The personal essay if not taken seriously curtails your chances of getting a scholarship.
If you are looking for tips on a structure of an admission essay or a graduate school personal statement format, then we have something useful for you. You can read them or ask anyone to help write your college essay.

And if you need a piece of advice on a scholarship personal statement format, feel free to ask our experts!